Immerse yourself in a magnificent view over Setouchi Inland Sea and our delightful meals. We serve breakfast, lunch, and dinner – all carefully and wholeheartedly selected for you.
*Please click on the Reservation pane for our telephone number and email address to place your meal order.
**If you have any food allergies and/or dietary restrictions, please notify us when you place an order.
***All the prices shown are inclusive of taxes.
Although numbers of the restaurants in Naoshima are growing, it might be hard to find a place near Tsutsujiso. We highly recommend you to make a meal reservation when you book a room at us so that you won't end up wandering around looking for 'just anywhere open'...it'll be such a sad memory! Please be sure to place an order by 18:00 (Japan time) on 3 days before your scheduled arrival.
Breakfast (Prior reservations required)
The kitchen opens at 7:45 a.m. and closes at 9:30 a.m.
Start your day with the beautiful view of the glittering sea and delicious breakfast. They will surely make your day better!
IMPORTANT NOTICE
※Recently we've got some guests who tried to switch their Japanese breakfast to Continental breakfast (and of course vice versa) at the very last moment (that is, when they were served at the restaurant). Some even had the breakfast we've prepared for the other guests without telling us anything.
We will be grateful if you stick to your initial order because we generally prepare the exact portions of meals based on orders we've got. Sometimes we can accommodate your request (talk to the receptionist when you check in and he/she will check if it's possible), often we can't. Unlike in cities, fresh ingredients can sometimes be difficult to get without arranging them in advance on the island. There might be many cases we might not be able to satisfy your need, but we greatly appreciate your understanding!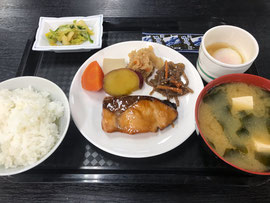 ■Japanese Breakfast■
650 yen
Want to charge energy before your adventure in Naoshima? This is just right for you.
-Grilled fish of the day
-Rolled omelette
-Japanese pickles
-Relish
                     -Rice, miso soup and tea (Please help yourself)
■Continental Breakfast■
440 yen
Want to relax by the sea with some coffee and a nice book? This will be your choice.
-Toast
-Boiled egg
-Salad
-Sausage slices
-Coffee (Please help yourself)
Lunch
How about taking a break from a stroll along Gotanji beach and enjoy our finest selection of light meals?
Go to our cafe page for the menu
If you are a big group (more than 10 people), we can prepare a group lunch as well.
■BBQ■ 2,800 yen - Available from July to mid-October
■Tsutsujiso Bento Box■ 1,620 yen - Japanese or Western
*Please make a reservation by 3 weeks before your scheduled visit.
**Having food allergies/dietary restrictions? Don't forget to let us know!
DINNER(Prior reservations required)
Please choose the time for your dinner from 6 p.m. or 6:30 p.m.
Note that our kitchen closes at 8 p.m. sharp.
※Menu varies seasonally
■Dinner (Period: April 1st, 2017 - June 30th, 2017)■
※All the prices shown are inclusive of taxes.
◆Specialty Tsutsuji Gozen (set meal) 2,700 yen
Inspired by the balmy atmosphere of Naoshima and the surrounded Setouchi Inland Sea area, we brought you the special assortments of meals full of fresh, seasonal ingredients from Okayama and Kagawa. Only here. Only now.
Special rice dish, 3 sides, soup and dessert 
※Dishes listed below are subject to change.The actual menu may vary according to the market.
※If you have any food allergies or dietary restriction, please notify us ahead of time.
◆Tsutsujiso Steak 2,160 yen
Are you a meat lover? Our tender, savory sirloin makes your night by the beach even more special!
Sirloin (200g/7oz) comes with chunky vegetables, salad, soup and rice or rolls
◆Tsutsujiso Hamburger 1,620 yen
Everyone's favorite burger came back again – get your hands dirty and munch our juicy burger!
Hamburger comes with fries, salad, and soup
■BBQ (Period: July 1st, 2017 -October 20th, 2017)■
Don't say you fully enjoyed summer until you have our barbecue. Various meats, seafood and veggies...all freshly from our neighborhood!
※All the prices shown are inclusive of taxes.
◆BBQ Standard 2,800 yen/person
Beef 100g, pork 100g, a Vienna sausage, seafood (a scallop, shrimp, a slice of squid), various vegetables (cabbage leaves, sliced carrots and onions, bell pepper, etc) and rice
◆BBQ Light 2,480 yen/person
Less meat and seafood, more veggies than BBQ Standard
◆BBQ Special 3,250 yen/person
Fish for grill, mushrooms, chicken 100g in addition to BBQ Standard
IF YOU WISH TO HAVE BREAKFAST AND/OR DINNER, PLEASE ORDER BY 18:00 (Japan time) on 3 DAYS BEFORE YOUR SCHEDULED ARRIVAL.